Robson Civil Projects Pty Ltd
EnerBurn Evaluation Results
The images shown below are from the teardown of one piece of equipment tested during the Diesel-E/EnerBurn® field trial. This engine is being torn down to observe the effects of EnerBurn ® on the internals of an engine. This engine ran for 15,000 hours with EnerBurn® catalysed fuel.
Robson Civil Projects Pty Ltd
Photo Gallery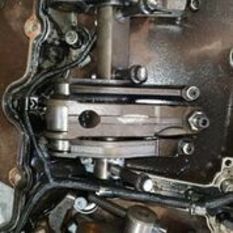 Closed Cylinder With Enerburn Hue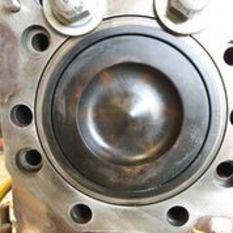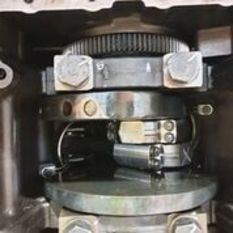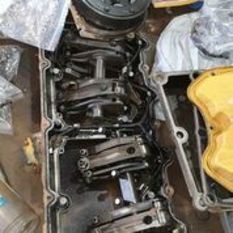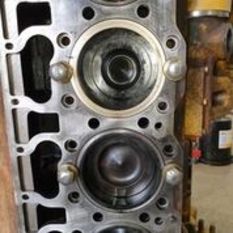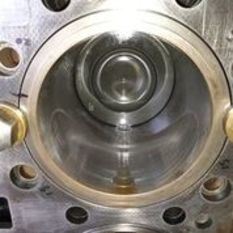 Open Cylinder Close Up View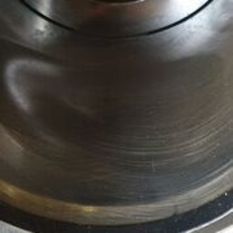 The trial results shown below for Robson Civil Projects was conducted by Robson, over 15,000 hours of equipment use under the watchful eyes of our Australian distributor, Refuelling Solutions Inc. Robson treated a variety of equipment with Diesel-E, a proprietary fuel blend offering of Refuelling Solutions Inc. Diesel-E is diesel fuel infused with (at the proper specs) with the EnerBurn® Diesel Fuel Combustion Catalyst
---
Enerteck Chemical Corporation
10701 Corporate Dr., Suite 150
Stafford, TX 77477
Phone: (281) 240-1787 Fax: (281) 240-1828
Wednesday, October 23, 2019
Purpose of Evaluation
Robson Civil Projects Pty Ltd was looking to reduce their carbon footprint while also increasing the efficiency of their fleet. As a customer of Renewable Fuel Solutions (RFS), they were introduced to Diesel-E an EnerBurn® enhanced diesel fuel offered by RFS. Robson is focused on developing and instilling a culture of environmental responsibility into their workforce and establishing operational environmental excellence by:
Minimising the impact of our construction activities
Promoting energy efficiency and waste reduction
Reducing our greenhouse gas emissions.
Product Tested
EnerBurn® Diesel Fuel Combustion Catalyst
Product Description
A high-performance diesel fuel combustion catalyst that provides both emissions and fuel consumption reductions.
Evaluation For
Mark Robson
Director and Maintenance Manager
Robson Civil Projects Pty Ltd
New South Wales, Australia
Equipment Evaluated
Equipment: Caterpillar R475
Engine Type: Caterpillar C27
Horsepower: 450hp
Evaluation Analyst
Maintenance Dept.
Robson Civil Projects Pty Ltd
New South Wales, Australia
Evaluation Protocols
The protocol for the Robson trial was formulated by Robson in conjunction with Simon Roycroft of Renewable Fuel Solutions. RFS delivered Diesel-E fuel to one of Robson's job sites where a variety of pieces of equipment would be evaluated on the enhanced fuel. All data on the equipment's ECM's were recorded prior to commencement of the evaluation and the ECM's data was also recorded at the end of the trial. The trial period lasted for one year.
The trial had three goals
Prove that EnerBurn® reduced fuel consumption
Were the vehicles emissions reduced
What were the effects on diesel particulate filters
All fueling events were recorded, pertinent ECM data was taken at various intervals and final ECM readings were taken at the end of the trial period.
Efficiency Improvements
The following efficiency improvements as it related to fuel consumption were observed. The expectations were for an improvement between 8-12%
The company did not wish to disclose the actual result, but noted in their testimonial letter that they were well within the expected range of improvement.
Emissions Improvements
Emissions were an important part of this evaluation as the company is keenly interested in improving their carbon profile. Improvements in both Particulate emissions and Nitrous Oxide emissions were the expected outcome.
The company did not wish to disclose the actual results of the emissions tests, but were extremely pleased with the results. A testimonial letter was provided which gives a bit more detail on the outcome of the evaluation.
Other Improvements
No other improvements were part of this trial but the effects of EnerBurn® uasage can reduce lube oil consumption, elongate oil service intervals which also reduces oil disposal costs and a few other ancillary cost saving benefits.
Conclusions
As can be noted by reading the testimonial letter provided by Mark Robson, the company was extremely pleased with the outcome of the evaluation and are currently working on providing Diesel-E supplied by Renewable Fuels to their entire fleet of equipment.